Tijarafe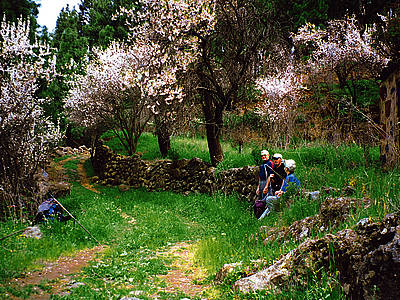 Not far from the city of Los Llanos lies Tijarafe, known by the inhabitants of La Palma as "El Campo". The rural magic of the year-round warm region consists within the small terraces cultivating wine, vegetables and fruit. Scattered on this sun-drenched westerly slope, between hand-built stone walls and many flowers, are small self-sustaining farms. Many families also keep chickens or goats, and naturally guests are generously presented with their produce. Countless historic goat trails pass along here and
offer wonderful hiking opportunities for all tastes, and always with a magnificent view
of the ocean and the hills.<1068/><1069/

The town Tijarafe with its 815 inhabitants offers shopping facilities, a museum, restaurants
and public houses. The church has a beautiful Flemish altar. The region of Tijarafe spreads in southern direction to El Time, the wonderful viewpoint and cafe. From here in La Punta it is only a 15 minute car drive along winding roads to the beach of Tazacorte, where breakwaters make swimming possible all year round. In the beautiful bays
of the north paddling/bathing is only possible in the summer.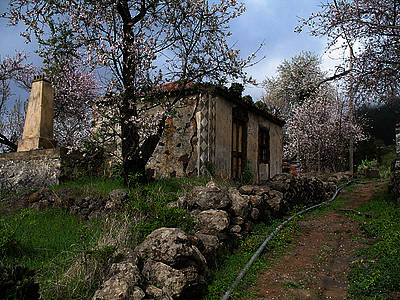 In the idyllic La Punta there is a small market square with a restaurant, food store, telephone and bus stop for the hourly "guagua" bus to Tazacorte/Los Llanos, or in the northern direction, to the town of Tijarafe and Puntagorda.

During spring, when the almond trees bloom, the slopes of Tijarafe turn into a sea of white and pink flowers. This is when the neighbouring town of Puntagorda celebrates the Almond blossom festival.
In Puntagorda there is a weekly farmers' market offering delicious local products and very nice crafts.
Tijarafe offers a vast array of hiking possibilities along historic goat trails, which have been cleaned and signposted as hiking paths, for example, from Tijarafe to Puntagorda beneath the road. This path leads through gorges and past idyllic farmsteads and wine cellars. There is also the possibility of catching the bus back, when the path crosses the road.
The paths higher up on the hill, for example to Cruz del Llano at a height of 1,000 m, lead past deserted ruins and still cultivated vineyards, while offering a magnificent view of the ocean. Up here there are tarmacked forest paths, which lead along the slope without much of a gradient, which can also be used for walking with a pushchair. From up here you are presented with magic views, also into the canyon of the La Caldera national park.
The fantastic hike along the ridge from Roque de los Muchachos to Torre El Time is both challenging and long. Only recommended for experienced hikers.
Additional impressions of the Tijarafe region