Puntallana Region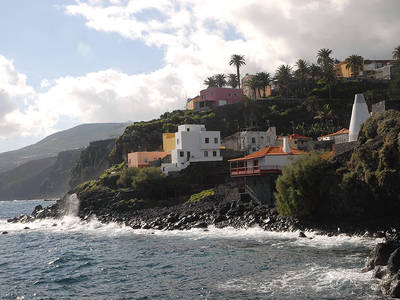 Scenic, hilly landscapes and fascinating gorges: Puntallana offers one of the most beautiful hiking areas of La Palma, including the Los Tilos laurel forest and the
Marco y Corderos springs. This is the region with greatest abundance of water. It is an enchanted forest with lovely excursions, for example to the rocky bathing coves of Charco Azul, situated below Los Sauces,
and the picturesque coastal town of San Andres.
There, on the church square, sitting in the shade of palm trees, you can relish the national dish: fresh fish with
papas arrugadas, local potatoes boiled in sea water, and Mojo Verde, a delectable
fresh herb sauce. Los Sauces is situated not far above sea level and has an exceptionally mild climate
and, from Puntallana, you quickly reach the beautiful capital city of Santa Cruz and the beaches
of Los Cancajos.
In Puntallana there is a small ethnographic museum, in which everyday scenes of days gone by
are re-enacted with dolls, and it also has a small German library.
Hiking tours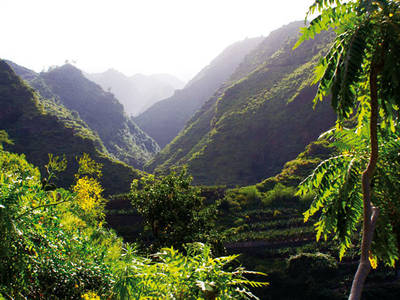 Starting from Puntallana, you have various hiking opportunities. Take a hiking trail through the impressive canyon-like Barrancos of the north of La Palma. The following hiking trails can be discovered on your own, using a map, or guided. You definitely require sturdy shoes for this, ideally alpine boots that reach above the ankles. Los Tilos:
This hiking trail starts in the heart of the biosphere reserve, right in the middle of the laurel forest.
Hiking trail of medium difficulty– trail length 10 km – altitudes +350/-800 m – max. altitude 730 m

Cubo de la Galga:
This hiking trail leads you straight into the laurel forest of Cubo de la Galga.
Hiking trail of medium difficulty – trail length 8 km – altitudes +300/-450 m – max. altitude 780 m

Herradura:
Only a few island visitors reach Barranco Herradura.
Strenuous hiking trail – trail length 10 km – altitudes +500/-250 m – max. altitude 850 m
Marcos y Cordero:
The legendary hiking trail to the waterfalls of Marcos y Cordero.
Strenuous hiking trail – trail length 16 km – altitudes +150/-950 m – max. altitude 1,400 m
Additional impressions of the Puntallana region