Fuencaliente and Los Canarios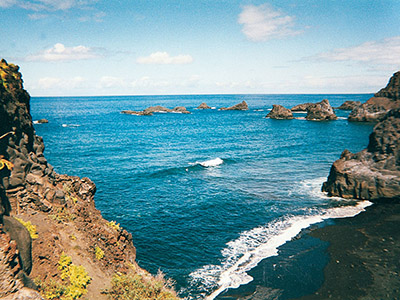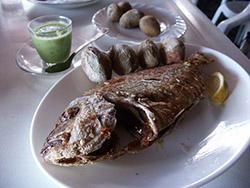 Fuencaliente, with its volcanoes, beautiful black sandy beaches and luscious green pine forests, is situated on a steep hillside at the southern tip of the island, making it a particularly fascinating location with crystal clear air.

With only a few hundred inhabitants, Fuencaliente is situated above a bizarre black lava landscape that plunges down toward the south.

Found directly below the location, are the former world-famous Malvasia wine vineyards in terrace cultivation. Rising above are the evergreen pine forests, with one of the most beautiful hiking trails on the island.

The hamlets of Las Caletas, Los Quemados and the sun-drenched Las Indias are a part of the Fuencaliente municipality. All three of them virtually cling to the abrupt and steeply sloping
hillside flanks, with Las Caletas in the south-east and the two others in the picturesque setting of the south-west,
all of them with a breathtaking seascape.

Deserted beaches and small bays are only a few kilometres further down and can be reached by car. A part of this coastal area is a diver's and snorkeller's paradise because a marine reserve is located here and fishing is forbidden.
Fuencaliente is also attractive for other outdoor activities, e.g. rock climbing and canoeing.

A hotel complex opened at one location along the expansive stretch of coast, yet the majority of the guests appear to prefer staying at the hotel pool. Hardly anyone finds the way to the beautiful bay of La Zamora. Fuencaliente lies in a lovely deep slumber, but this little spot is not too far
from the main towns of the island.

By car, you need 45 minutes to reach the beautiful capital city of Santa Cruz in the east and a little more to Los Llanos, the centre of the west
.

Special attractions in Fuencaliente are the fascinating volcano and maritime museums, lighthouses and the saltworks, which are definitely well worth visiting. The valuable handmade salt
is a popular souvenir.
Further information
Hiking tours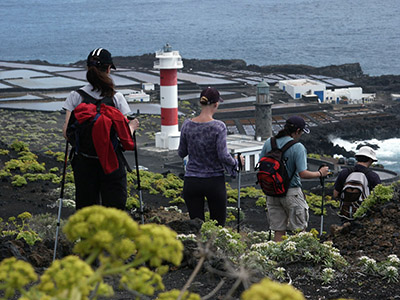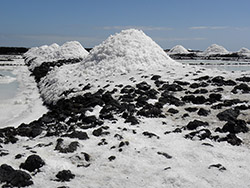 Starting from Fuencaliente, you have various hiking opportunities. Hike through bizarre volcanic landscapes. You can also discover them on your own, using a map or hiking travel guide. You definitely require sturdy shoes for this, ideally alpine boots that reach above the ankles.
From Tigalate to Fuencaliente:
Hiking trail of medium difficulty, virtually without gradients – trail length 12 km – altitudes +300/-300 m – max. altitude 900 m Casas Viejas:
In 1712, the El Charco volcano buried vast areas of the south-western half of the island under its lava masses.
Easy hiking trail– trail length 6 km – altitudes +150/-200 m – max. altitude 760 m Teneguía:
This excursion leads to the most recent Spanish volcano, the Teneguía, which erupted in 1971.
Hiking trail of medium difficulty–trail length 7 km – altitudes +100/-800 m – max. altitude 700 m Volcano route:
The classic volcano route from Refugio El Pilar to Los Canarios.
Strenuous hiking trail – trail length 19 km – altitudes +500/-1,200 m – max. altitude 1,950 m Tiguerorte:
Easy hiking trail – trail length 11 km – altitudes +250/-450 m – max. altitude 740 m
Additional impressions of the Fuencaliente region